Contributions to the Patron Program provide the financial cornerstone for the Trinity Concert Series. Ticket sales cover only 30% of our season expenses. Individual contributions not only help sustain the series, they help it to grow. We count on each gift to help us extend the joys of music to all in our community. 100% of your contribution goes towards TCS programming. We are your series, and you make all of our work possible!
PATRONS RECEIVE EXCLUSIVE BENEFITS
Program Recognition Your name will be listed as a patron in all Trinity Concert Series programs throughout the season. You will also have the option to receive recognition on this website.
Patron Passes/Subscriptions You will receive complimentary patron passes and/or season subscriptions as our way of thanking you for your support. (Please see the patron levels to the right for details.)
Ticket Discounts In addition to your complimentary patron passes and/or season subscriptions, you will also receive a discount on other tickets purchased throughout the season. (Please see the patron levels for details.)
In Memory/Honor Gifts You have the option of making your gift in memory or honor of someone.
Tax Deduction Because Trinity Church is a 501(c)(3) non-profit organization, your contributions to the Trinity Concert Series are tax-deductible to the fullest extent allowed by law. (You will receive a statement at the end of each calendar year showing your gift minus the value of any benefits you receive.)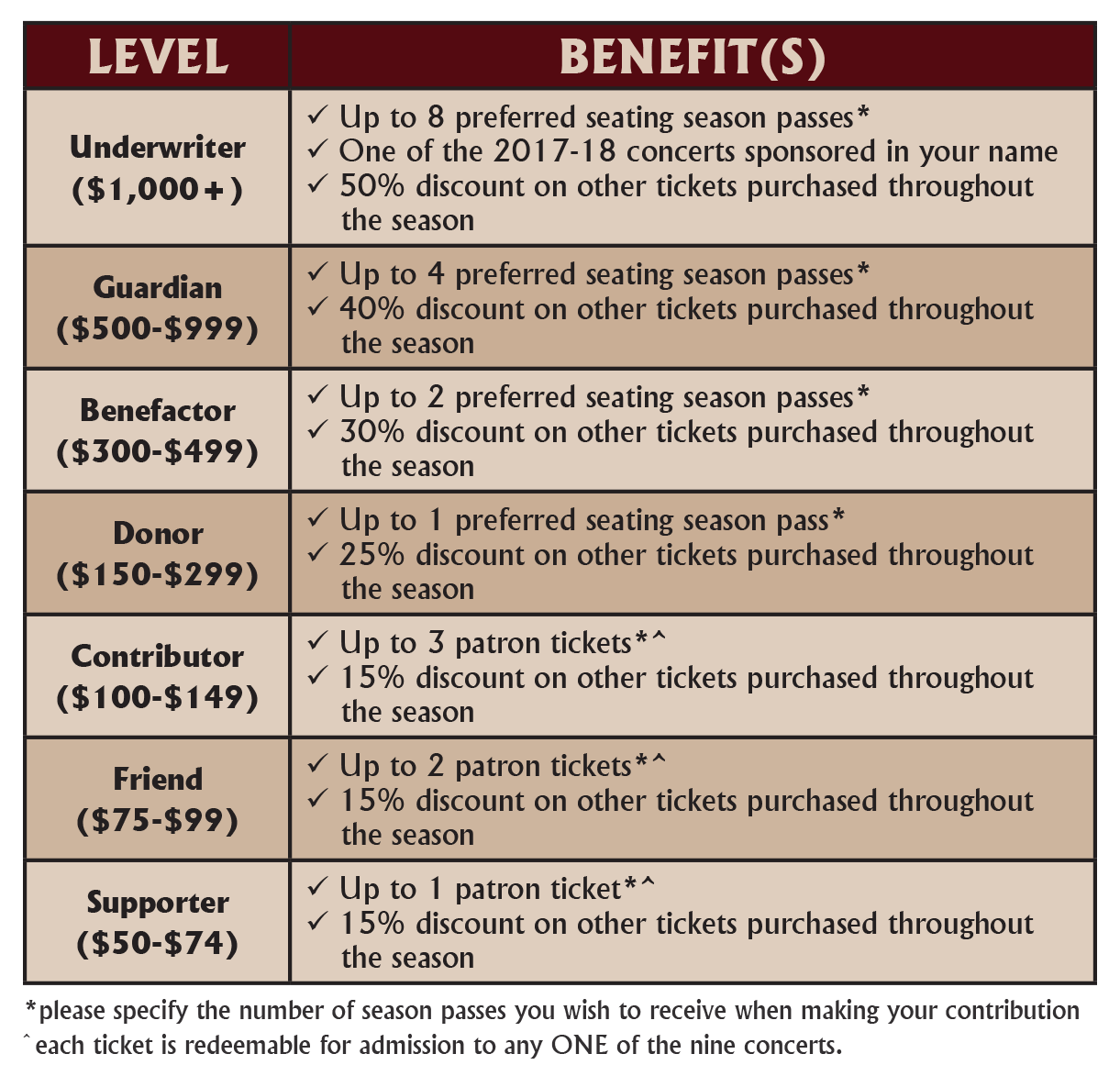 Help ensure the future of classical music in the greater Watertown and Northern New York communities by becoming a member of our Patron Program. Gifts of any size truly make a difference, so please don't delay – donate today!
BOX OFFICE HOURS
MONDAY – THURSDAY
9 AM ~ 3 PM
FRIDAY – SATURDAY
CLOSED
SUNDAY
11:30 AM – 2:30 PM (concert days only)