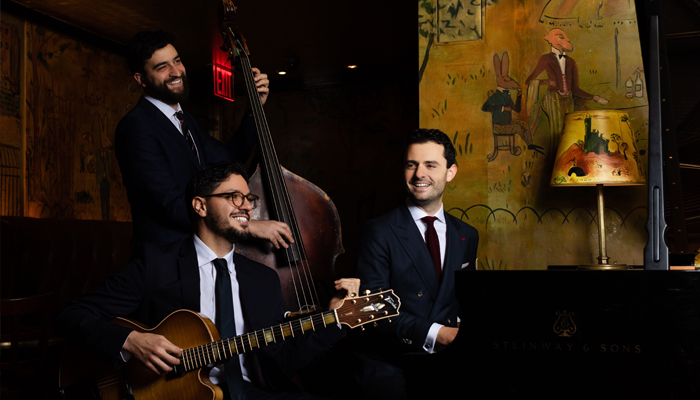 Konrad Paszudzki Jazz Trio
Sharing a love of classic jazz and the great standards of the 1930s, 1940s and 1950s, the members of the trio tip the hat to those that have influenced them—Oscar Peterson, Erroll Garner, Art Tatum, Charlie Parker, Israel Crosby, Ahmad Jamal, and Joe Pass, to name a few. The trio has a sound steeped in tradition, but always remains creative and inventive. They are the ultimate modern day swingin' unit. 
​The three artists, also known for their nimbleness on their respective instruments, pride themselves on clean, graceful, toe-tapping execution. Listening to the trio play is a swingin' party of sophisticated, melodic warfare, with Paszkudzki and Grasso constantly bouncing lines back and forth over the immovable bass lines of Dylan Shamat. The result is fiery straight-ahead jazz with melodic elegance and nonchalant grace and a worthy homage to the jazz greats.
ARTIST TALKBACK
Following this performance, local students will participate in a post-concert discussion with the artists. All concertgoers are also invited to attend. This question-and-answer session will be held immediately after the performance.
"Grasso's playing is practically faultless, his hands darting over the instrument like hummingbirds."
"Great tunes, smart arrangements, and terrific musicianship all in one package. Jazz lives!"
"To put it simply, he is Jazz!"

Share This Information