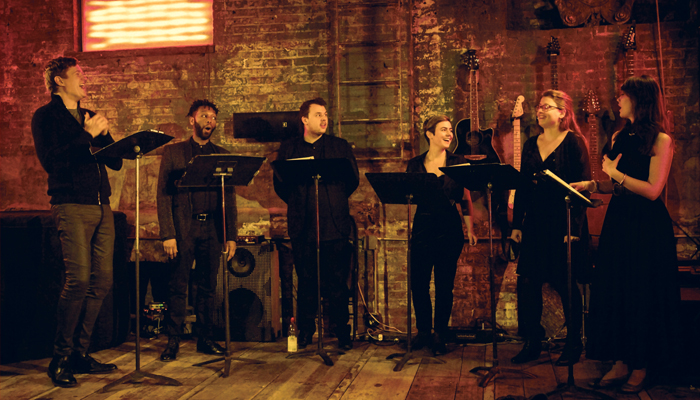 The New Consort: Begotten, Not Made
Winners of the American Prize in Chamber Music, The New Consort is a vocal chamber ensemble dedicated to exploring the roles that musical ritual and community can play in 21st-century lives. The group programs historical works for voices, then recontextualizes them for a modern audience; the group commissions and highlights significant new works that think deeply about vocal music's legacy and future; and the group knits rituals and stories out of its performances, marrying old and new wisdom about inspiring empathy, community, and awe. The group brings the unique emotive power of vocal ensemble music out of its historical place in religious ceremony, using it instead to humanize the marginalized and illuminate thematic connections among creators in many genres of musical expression.
Founded by baritone & artistic director Brian Mummert, The New Consort has been presented by organizations including Trinity College, Cambridge; Tippet Rise Art Center; Saint Thomas Church, Fifth Avenue; The Walters Art Museum's First Fridays series; The Bach Store, an NYC pop-up concert hall; Gotham Early Music Scene's Midtown Concerts Series; Pegasus Early Music and New York State Baroque; Spectrum NYC; and at concert halls, churches, and schools throughout the northeastern United States. Recent and upcoming commissions include projects by Rossa Crean, Jonathan Woody, Simon Frisch, Hope Littwin, Niccolo Seligmann, Ethan McGrath, and Sarah Meneely-Kyder. Members of The New Consort have appeared as soloists, choristers, and conductors with some of the world's best-respected ensembles, but relish the opportunity to collaborate as chamber musicians.
Begotten, Not Made pairs sections of the William Byrd Masses for 4 and 5 Voices (honoring the 400th anniversary of his passing) with pieces setting texts from other faith traditions, including works by Reena Esmail, Shireen Abu Khader, Salamone Rossi, and more. At the heart of this program is a world premiere by Hope Littwin, a current PhD student in composition at Princeton and a prolific singer-songwriter/live electro-acoustic composer. Hope's new secular/ecumenical take on the Credo, the central and longest movement of the Christian mass, will incorporate looping, improvisation, and the incorporation of "I believe…" statements solicited from performers and audience alike, building a soundscape representative of the diversity of voices and beliefs at play in a democratic society.
Share This Information