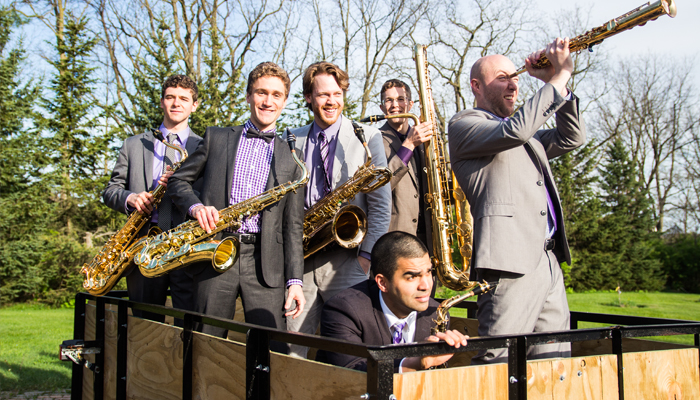 Bending genres and uplifting spirits, The Moanin' Frogs saxophone sextet is redefining what chamber music can be. Rooted in the classical tradition and theater of the American Vaudeville show, The Moanin' Frogs' spirited arrangements, creative choreography, and technically precise performances of jazz, pop, and classical music delight fans across the world.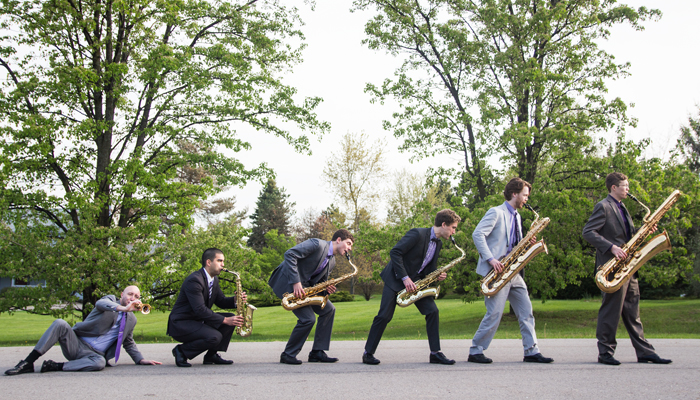 The first touring group of their instrumentation since the early 1930s, The Moanin' Frogs demonstrate the full line of saxophones. This gives The Frogs a big, symphonic sound and the ability to perform both highlights from the Vaudeville repertoire and entire orchestral works with only six players. Their name, a contraction of the 1914 and 1916 hit titles, That Moanin' Saxophone Rag and The Bull Frog Blues, also hints at their ability to hop convincingly between genres: they are at home as concerto soloists and burlesque show musicians, jazz improvisers and primo chamber ensemble players.
Committed to inspiring future generations of musicians, The Frogs recently entered into partnership with the Conn-Selmer Division of Education, which kicked off at the 2015 Conn-Selmer Institute. Through this partnership, The Moanin' Frogs give performances and interactive sessions with students nationwide.
ARTIST TALKBACK
Following this performance, local students will participate in a post-concert discussion with the artists. All concertgoers are also invited to attend. This question-and-answer session will be held immediately after the performance.
"The Moanin' Frogs are completely unique — I've never seen or heard anything even remotely like these guys. So much fun to watch and listen to, so musical…"
"…absolutely awesome, and people are still talking about [the] performance and how much they loved it!"
"The Moanin Frogs is the perfect blend of expertise, charm and entertainment…their skill and programming keep smiling audiences on the edge of their seats…" 
Share This Information